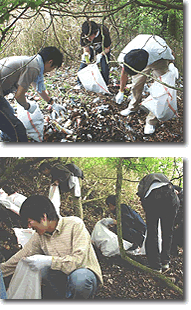 Since fiscal 1990, Hitachi Electronics Services Co., Ltd. has been taking its new employees trekking in Mt. Oyama each May as part of its new-employee educational program, in order to foster bonding between new employees and improve physical strength.
In addition to this program, since fiscal 2001, the company has also been participating in the city of Isehara's annual Clean Campaign, aimed at beautifying tourist areas and improving tourists' awareness of beautification, in order to improve new employees' awareness of environmental issues, as an ISO 14001 certified company.
We remain actively committed to environmental issues.